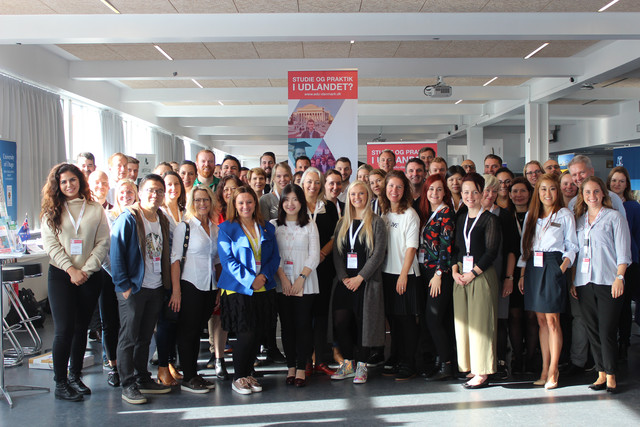 For potential partners
Who are we
Why Denmark and the Danish market?
Why partner with us?
How we market our partner universities
How we work with students
What quality service is for us
 
Who are we:
The largest and most experienced agent in Denmark, founded in 1999
A company with a strong focus on education and related services
Education specialists; everything we do revolves around education
The representative for more than 50 universities
Certified by the American International Recruitment Council and by British Council as well as a graduate from the Canada Course for Education Agents (CCEA)
The IELTS administrator in Denmark (by contract with British Council)
Exams center for students in distance education programs
Our office is located in the heart of Copenhagen
Why Denmark and the Danish market?
The Danish market shares characteristics with other Northern European markets but with some unique features that set us apart from the rest.
Danish students are:
Academically well rounded and typically in their early to mid 20s
Among the best non-native English speakers in the world
Eligible for more public funding than most other students in the world (typically 40-100 % of tuition fees & a living expense grant)
Typically relatively mature and experienced travelers
Likely to follow through with applications (application conversions around 90 %)
Focused on spending at least one semester of their university program abroad
Quality conscious with a tendency to prioritize academic quality over cost
Why partner with us?
Building relationships with our partner universities is as essential to us as helping students make the right decisions about studying abroad. When it comes to our partners, we focus on:
Building solid long-term relationships based on mutual understanding and open communication
Having a select group of quality partners rather than a large portfolio
Providing annual reports and provide feedback as well as recommendations to all partners
Assisting our partners in identifying new market opportunities
Keeping our partners updated on developments in the Danish market with Newsletters 4 times per year
Visiting our partners on campus and encouraging them to visit us
How we market our partner universities
No one knows Danish students like us. Our presence in the market spans three decades and through the years we have developed our approach to spreading the word about 'our' universities. Among other things, we market our universities by:
Organizing our 'EDU Days' fairs in March and September (largest educational fairs in Denmark)
Participating in fairs at major Danish universities &  Institutions of Higher Education
Organizing info events for individual students, interest groups and professional associations
General online marketing campaigns (Facebook, Instagram and Google Adwords)

Representing partners all year round and wherever we go
Employing EDU alumni as part-time student advisors to share their experiences
How we work with students
Servicing our students to their full satisfaction is crucial to our business. To our students we offer free of charge:
Help to determine which study option best suits their needs
Support throughout the application, admissions and reentry processes
Dedicated and experienced fulltime staff and EDU alumni to help them on their way
Problem solving when needed to ensure a smooth transition from studying in Denmark to being an international student
Information sessions for future students across the country
Preparation meetings before departure, keeping in touch while they are away and re-entry seminar upon return
Focus in the intercultural learning process and the competences gained abroad
Facebook groups where students can connect with each other
Presentations and advice about applying for private funding
What quality service is for us:
Respect, trust and neutrality when we advise students.
The guidance we provide is tailored to the individual
Quality assurance of the information we provide.
Development and preservation of a close collaboration with our partner universities.
The development of competencies in our student advising team.

If you are interested in working with EDU and would like to discuss the opportunities for doing so, please contact Michael Jerking (Manager of Marketing and Partnerships) at mj@edu-danmark.dk.