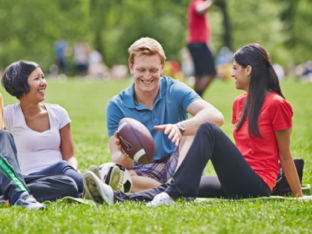 IELTS FAQ
Where can I take the IELTS exam?
Is IELTS difficult? - Do I need a preparation course?
Can I register at your office?
How do I prepare for the test?
Which ID can I use as proof of idendity?
I am a visitor/temporary resident in Denmark. Can I take the test here?
Should I take the IELTS Academic Module or the General Module Exam?
What score do I need to get to pass?
Do I receive a confirmation by e-mail?
I haven't received any confirmation, am I allowed to come to the exam?
How long does the exam take and where is the test centre?
Can I use a computer?
Can I use a dictionary?
Can I bring something to eat and drink?
When are the speaking tests held?
When do I receive my result?
Can I see my result on the internet?
Can I get extra copies of the test report form?
Can i retake the test if I don't get the score I need?
What if I want to cancel or postpone?
What if I am not happy with my results?
How long are the results valid?
Can someone under the age of 18 sit the exam?
Can a native english speaker take the exam?
What about special needs?
What is the main difference between IELTS and TOEFL?
What is IELTS Life Skills?
IELTS on Facebook
---
Where can I take the IELTS exam?
Most tests are held in Copenhagen. For Aarhus we currently do not have a fixed schedule, test dates in Aarhus will appear on the online registration system as soon as any are available. Any test in Tórshavn (Faroe Islands) will also appear in the registration system. All IELTS tests in Denmark are organised by EDU Danmark - IELTS, e-mail: ielts@edu-danmark.dk
---
Is IELTS difficult? - Do I need a preparation course?
We cannot give individual advice on this, but we would recommend to prepare as you would for any examination that you need to reach your goals. 
If you register online you will get access to 30 hours of free practice with the Road to IELTS online preparation tool. We also refer to the test examples that are available on takeielts.org (Free practice tests) These, together with the information in "How to Prepare" on this site as well as the "Test Day" advice will all assist you in getting the score you need.
---
Can I register at your office?
No, registration is done in the Online Registration System. You will receive instructions for payment etc. after filling out your registration. We can unfortunately not have personal meetings with candidates. 
---
How do I prepare for the test?
See the How to prepare section on this website.
---
Which ID can I use as proof of identity?
Candidates must have a valid passport (National ID card accepted for EU citizens only but if you have a passport please use that) to register for the IELTS exam. The same passport has to be shown on the test day. We can NOT use residence permits nor other IDs such as driving licenses and student identity cards - these are not acceptable forms of identification.
If you do not have your valid ID on you on the test date, we can not admit you to the test. Please plan accordingly if you need to apply for a visa or have your passport renewed. 
---
I am a visitor/temporary resident in Denmark. Can I take the test here?
Yes, you can. You can take the test anywhere in the world. You only need a valid passport. Note that we need a correct address to send your Test Report Form, as we can only issue one copy to you. Therefore, if you have a temporary address please make sure the address includes the name of the person you are staying with, i.e. "Miss J. Jones, c/o Peter Hansen" etc. etc.



---
Should I take the IELTS Academic Module or the General Module Exam?


The IELTS Academic Module exam is intended for those who want to study in an English-speaking country or where the medium of communication is English, as well as for medical professionals who want to practise abroad. The General Module exam is for those who want to emigrate to Australia, Canada or New Zealand, undergo practical vocational training, or do a work placement. Before you register you should check directly with the institution you are doing the test for. It is your responsibility to choose the module that suits your purpose. For more information please chedk "Which version of the IELTS test is right for you".
---
What score do I need to get to pass?
There is no "pass" or "fail" in IELTS. If you are taking the IELTS Test in order to study, please check directly with the university what the minimum requirements are. Different universities require different scores. If you are taking the exam in order to emigrate to Australia, Canada, the UK or New Zealand or another country, please check with the relevant embassy. To search for a recognising institution, use Who accepts IELTS?
---
Do I receive a confirmation by e-mail?
Yes. If you do not see this, please check your spam folder first. Test day information and addresses are sent by e-mail 1 week before the test date. 
---
I haven't received any confirmation. Am I allowed to come to the exam?
It is important that you write your correct and complete email address in the online registration. Please also check your spam folder first before contacting us in case you did not get any confirmation. You will get the test day details by e-mail 1 week before the test. 
---
How long does the exam take and where is the test centre?
You need to arrive no later than 08:30 to allow time for check-in and a photograph. The written parts of the exam take about 3 hours. You should be ready with the written parts by approx. 12:15. In the course of the afternoon the speaking tests will take place, each lasting less than 15 minutes. In those cases where Speaking tests are held on another day (for candidates close by Copenhagen) you will be informed on forehand. You will be informed of test venue address by e-mail no later than 1 week before the test.
---
Can I use a computer?
No. The test is paper-based and you write by hand. 
---
Can I use a dictionary?
No, you can not use any form or type of dictionary, notes or anything else, neither on paper nor electronically.
---
Can I bring something to eat and drink?
You can only bring water in a transparent bottle with the label removed. You can not bring anything else into the test room including sweets or tablets. Candidates asking for an exemption on the grounds of medical needs should tick the relevant box when they apply, and must  supply medical evidence, in original, paper fomat, before the test date. 
---
When are the speaking tests held?
Speaking tests are held on the same day or on another day, this is indicated with the available test dates when you book online, so please be sure to choose the right option for you. You will be notified beforehand of the relevant Speaking date if you choose "Speaking other day". If you have chosen "Speaking same day" then  please keep the whole afternoon free for this. Candidates with travel time will have priority, but we need to be able to make adjustments in case of unforeseen circumstances.Teat day information, times and addresses are sent by e-mail 1 week before the test. 
---
When do I receive my result?
The test results are available online on the morning of the 13th day after the test. You will be notified by e-mail when they are uploaded. Test Report Forms or TRFs are sent out by post on the same day. For a test on Saturday this is the Friday two weeks later. We need a correct address to send your confirmation and Test Report Form, as we can only issue one TRF to you. Therefore, please make sure the address includes the name of the person you are staying with, i.e. "Miss J. Jones, c/o Peter Hansen" etc. etc.



Please do not call us about your results - we are not allowed to send them by e-mail or issue them over the phone. 
---
Can I see my result on the internet?
Yes, you will be able to view your results in the Candidate Area for 40 days. Login information is given in your confirmation e-mail. You will receive an e-mail in the morning of the 13th day after the test when the results are available online. 
---
Can I get extra copies of the test report form?
You will only get one personal copy of your results and we advise you to keep this in a secure place. We can send copies on your behalf to institutions, immigration authorities etc. up to two years after the test. You can use the form enclosed with your TRF. You need not fill out any institutions at the time of applying. Up to five TRFs are included in your test fee, if you need more we charge DKK 90. You can also find the form here: Application for additional TRFs
---
Can I retake the test if I don't get the score I need?


You can take the test as many times as you wish by applying again for any available date. However, it should be noted that to significantly improve a score it is necessary to engage in further study or practice. IELTS research indicates that scores are unlikely to improve dramatically without extensive English language tuition in the interim. You must repeat the full test and the test fee is the same for each repeated test.
---
What if I want to cancel or postpone?
Candidates who cancel or request a transfer more than 5 weeks before the test date will be charged an administration fee of DKK 250. If you cancel or postpone ypur test within five weeks of the test date for any reason apart from medical ones, you will not be eligible to receive a refund.

If you are absent on the test day for medical reasons, you must provide supporting medical evidence within five days of the test date. Only evidence of serius illness will be considered. Only original medical certificates will be accepted and must state inability to appear for the test on the scheduled test date. Please contact ielts@edu-danmark.dk. 
You can not a refund for practice materials that we have already sent to you.
---
What if I am not happy with my results?
If you are not satisfied with your results, you have the option of applying for a re-mark of (parts of) your test. This process is called Enquiry on Results and costs DKK 630. Should your score improve as a result of this re-evaluation, this amount will be refunded to you. Your result cannot be lowered from the original Test Report Form issued to you. To make use of this service send an email to ielts@edu-danmark.dk. Please note that we must receive your form and payment within 6 weeks of the test date and the turnover time is up to 4 weeks after receipt of the materials in the UK.
---




How long are the results valid?
There is no formal expiry date. As with most English language qualifications, it is recommended that IELTS scores only be accepted after a 2-year period if you can prove you have kept up your language level. It is at the discretion of the receiving institution whether they wish to accept your results after this period of 2 years. Please note we cannot issue a Test Report Form on your behalf after the 2-year period.



---
Can someone under the age of 18 sit the exam?
Yes, the minimum age is 16. Exceptions can only be made in rare cases, such as the test being a school admission requirement. Generally it is strongly recommended that those under the age of 18 take Cambridge ESOL exams instead. You can do this at Studieskolen in Copenhagen.
---
Can a native english speaker take the exam?
Yes, anyone over the age of 16 can take the exam regardless nationality or background.
---
What about special needs?

The IELTS test has been designed to be a fair test. Your English language ability will be assessed objectively, regardless of any disability that you may have. We make every effort to cater for the special needs of disabled candidates. You will need to provide an original medical statement or certificate from a specialist, no older than 2 years, when you book your test. Whatever special provisions you need, please contact us at ielts@edu-danmark.dk to discuss your special needs as soon as possible. If special materials are needed you must register no later than 3 months before the test date. It may not be possible to offer special arrangements at every test date. 
---
What is the main difference between IELTS and TOEFL?
With IELTS, you will always have a Speaking test - a short person-to-person conversation with an examiner. For many, this helps to increase their average score. Depending on which version of TOEFL you are looking at, you will either have no Speaking test or you will have to speak into a computer. 
---
What is IELTS Life Skills (for UK visa applications)? 
If you are applying for a visa to move to or remain in the UK, and need to prove your speaking and listening skills at levels A1 or B1 of the CEFR, you take IELTS LIfe Skills. The IELTS LIfe Skills test will test Speaking and Listening skills only. You can read more here.  
---
IELTS on Facebook
IELTS ON FACEBOOK: "IELTS Official"
This is the official global IELTS Facebook page. Here, you can talk to people about to take the test or who have already done so. Feel free to ask any questions, as well as practise your English skills.