RMIT University, Melbourne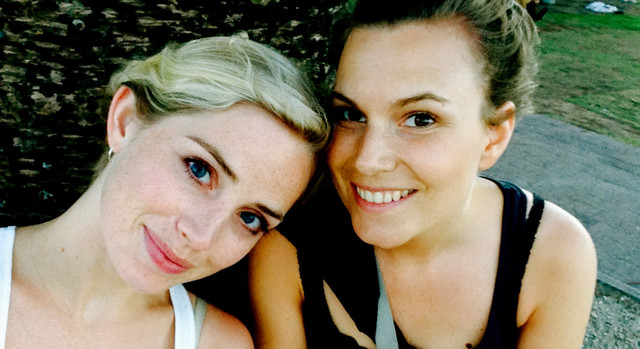 "Melbourne simply makes me more creative!"
An interview with Emilie Kvistbjerg about what it is like to study Advertising at RMIT University in Melbourne.
In October 2013 Emilie Kvistbjerg decided that she wanted to study in Australia. Today, now the experience is almost over, Emilie does not regret choosing both Melbourne and RMIT as the combination has inspired her creatively.
In Copenhagen on a typically grey and rainy day in October 2013 25 year-old Emilie Kvistbjerg decided she wanted a change in her study life. Routines and theory had taken over her course, and the creative aspects she enjoyed most about her study were constantly stifled by Foucault inspired analyses.
"I love my study and the depth it has but at that time I felt like I needed to try something new. I like being creative and playful and I felt my study was based too much on theory. I needed to find a university where I could live out my creative side and garner practical experience for a while."
Emilie has a Bachelors Degree in Communication and Corporate Studies from Roskilde University and is now undertaking a Masters in Communication at Aalborg University.
Many of Emilie's friends had studied abroad for half a year and the seemingly endless amount of stories and memories they shared with her about their experiences peaked her curiosity.
"I wanted to be a part of that group. I wanted to gain international experience and to challenge myself."
Where to go?
Because it was a spur of the moment decision to go studying in a foreign country for a semester and the time for applying was short, Emilie could not waste too much time researching potential destinations.
"I was in a hurry, as many of the universities stop accepting applications an the end of November. Luckily EDU's webpage was clear and helpful and it only took me a few clicks to find out that RMIT could offer exactly what I was looking for – the combination of communication, creativity and advertising. Also EDU's description of all the things Melbourne had to offer didn't make the decision difficult. I wanted to go to Melbourne."
According to Louise Hegelund Waaben, Study Abroad Advisor at EDU, RMIT and Melbourne are very popular destinations among Danish students:
"RMIT is known for having good connections to the business world and for supplying their students with useful hands-on experience which many Danish students are missing from their educations back home."
She continues:
"Melbourne is a city that is young in spirit but still has depth, history and the campus could not be more accessible."
Drawing and pitching ideas in class
A study abroad student at RMIT has to complete four courses per semester, which corresponds to 30 ECTS points, to fulfil the requirements for full-time study. The university is known for having many different courses within the field of advertising, design, communication and journalism.
It is now two weeks since Emilie finished a large portfolio. She had to create and draw 25 creative concepts for an advertising campaign in order to pitch them to an audience in the end.
"It was challenging but also really fun to create a portfolio. When you don't have that much theory included in the lecture, there is more space for creativity and ideas. With fewer guidelines, ideas just appear faster."
Emilie continues:
"Basically we learn how to describe why our ideas are fun and attractive. It's entertaining, useful and very different from my studies at Aalborg University."
Differences create creativity 
For Emilie, the fact that RMIT is located in the heart of Australia's most creative and cultural city increases her ability to think creatively. She describes Melbourne as a city where having a creative spirit is crucial.
"Because Australia is such a new country a lot of different traditions and nationalities are gathered to inspire and put their unique touches on the city. It makes the city complex and interesting and it inspires me in my university work. Melbourne simply makes me more creative!"
The diversity of students in Emilie's class reflects Melbourne's heterogeneous society a fact that she suggests makes the work presented in class even more interesting. The mix of different backgrounds and cultures that students have, Emilie says, results in many unique and different approaches to advertising being presented in class, introducing her to ways of thinking she would not have otherwise been exposed to.
According to Louise Hegelund Waaben RMIT have around 82,000 students, of which around a third are international students.
Not only easy-peasy
Studying abroad is a life changing experience that presents many challenges and obstacles. It is not an easy thing to start up a new life on the opposite side of the world, juggling study in a different language with more practical problems such as finding a place to live, making new friends and figuring out how the train system works. Effectively solving these problems requires a strong mind and a sound knowledge of deep breathing and meditation.
 "I think the most challenging thing has been to find new Australian friends when you are only here for five months. I feel like I have just started to be a part of a different group of friends and now I will have to leave in a month. It is sad."
Emilie recommends that future study abroad students consider studying abroad for a whole year instead of only one semester. Although she does admit that one semester is enough to absorb a new culture and gain many experiences, both of which will be helpful for the future.
"A lot of employers are looking for people with international experience who know how to work and behave in an international environment."
She continues on, advocating studying abroad:
"We are not known for being high on the scale when it comes to the amount of students studying abroad, a new analysis from the biggest Danish Media Company confirms. We should definitely make an effort to send more students out into the world to gain experiences that they can later bring to our companies and public institutions."
Building 9 will be missed
When asked about what she will miss the most about Melbourne and RMIT, Emilie mentions several different things. Besides the world-class coffee, good weather, walks on St. Kilda beach and random hipster concerts on Brunswick Street, there is one special building – Building 9, the home of the Faculty of Media and Communications – that will be missed the most.
"There is something special about that building, which inspires me a lot when I am working and have to be creative. It is a large, light and modern room with a serious and creative atmosphere. All kinds of people are drawing, writing and discussing their work and it inspires me to always do my best."
According to Emilie students and people in Melbourne are very passionate about their work, with their work and personal lives often intersecting in many different ways.
Food concepts are spot on
The food Melbourne has to offer has made an impression on the 25-year old student who still has a lot of restaurants to try out before leaving Australia.
One restaurant has especially won her heart:
"The Asian restaurant Chin Chin is my favourite so far. It has a modern concept and they really understand how to get the best from every taste combination."
Emilie highlights the different food concepts you can find in Melbourne as something she likes most about the city's gastronomy:
"It is amazing how consistent all concepts are here in Melbourne. From ice-cream store to hotdog bar, Melbourne is ahead in many ways and it is clear that the people who start up new places do it with love and passion."
Do it!
In conclusion, Emilie has one thing to say to anyone considering studying abroad in Melbourne.
 "If you are considering doing it, do it."
Af Stine Kærsgaard Sørensen i forbindelse med hendes fag "Writing for the media", RMIT forår 2014